WHO?
Makers (artists, craftspeople, sculptors, designers etc)
WHAT?
Transnational exchange schemes between makers and/or organisations/ creative spaces
A TRANSNATIONAL EXCHANGE PROGRAM FOR MAKERS
Call for Applications Closed
Hyper Global x Hyper Local, an open call that is inviting makers to explore what it means to be both connected physically to local contexts and digitally at a global scale when travel and physical exchanges are not possible. The call addresses makers in the broadest sense of this term, including creative professionals who produce work and projects using technology and/or traditional tools and methods, artists, craftspeople, sculptors and textile designers.
The call is addressed to applicants who wish to form an exchange team with a maker or an organisation from a different country, where physical exchange is not favourable at the moment. For example, this could be a maker(s) from France, exchanging with an organisation in Spain that communicate with each other in a fully online format in order to carry out their project. Hyper Global / Hyper Local is open to all applicants from the eligible countries as listed here. The program will feature 10 exchanges scheduled to take place during the month of February 2021
With respect to the current circumstances brought about by the COVID-19 pandemic, the scheme will pilot potential online and hybrid exchange formats with creatives and makers that need a lab or working station and/or respective equipment. Participants that take part in exchange will be supported to explore the most efficient ways for exchanging knowledge and developing skills, and invited to use the digital space as a place for knowledge exchange and co-creation through a combination of local research and online international sharing.
Topics related to the theme that can be explored could include but are by no means limited to:
New ways of working in

distributed formats

producing and designing physical artefacts.

Adaptations to workspaces and the formation of domestic laboratories

to create work and extend practice.

Discoveries and collaborations with local communities and practitioners brought about by lockdowns and minimized travel in 2020.
Read more
close
Each exchange will feature two parties, which could look like:
Please note the maker may collaborate with others as a small team during the exchange however this will not change the funding amount received. Applications must be made by one maker on behalf of the exchange, so if the proposed exchange includes a maker and an organisation the maker applies on behalf of the organisation. In the application form a contact for the organisation/creative space must be provided.
Read more
close
The exchanging teams must co-develop a program of exchange that can prominently occupy a digital/ online/ remote format, including innovative forms of presentation and implementations that allow remote audience participation, so they can share the outputs of their exchange with a broader audience.
There will be an opening online event where each exchange will present their proposal, and a closing event for presentations of the outcomes, reflections and feedback. Throughout the exchange there will be optional drop-in sessions for community building and social interaction where participants will be able to learn about the projects in the exchange and interact. There will also be tools and the possibilities for participants to self organise meetings amongst themselves.
Read more
close
The format of the exchange is open, and participants will have freedom to explore and produce artifacts, methodologies and outputs that they feel is most appropriate for their work.
Each exchange can focus on one of the following:
Practice based exchange
The exchange will work on a project with a

physical output and can explore lines of work such as what it means to be prototyping in a distributed team.


Purpose based exchange
The exchange will focus on

skills and knowledge transfer with participants of the exchange connected by a particular theme to explore and common purpose. An output for such an exchange is open – including anything from a workshop series to a documentary, but it should be described by the participants in the application.


Personal and professional development based exchange
The exchange will focus on

specific training that participants would like to carry out to further their practice that falls outside of formal education.


Read more
close
Each exchange will require a minimum amount of 40 hours of working time. The participants of each exchange will be responsible for planning and organizing their exchange within the start and finish dates of the exchange. Participants will be expected to document and record the time spent during the exchange.
A budget of €1000 for the production of the online exchange project will be available for each participating team. An estimated budget for the project must be submitted by each team in the application, stating how it will be distributed amongst the participants in the exchange. Note that the applying party will be the one that receives the entire budget and will be responsible for distributing the budget as per the project proposal.
Depending on the scope of each project, experts from various fields and an international facilitator will join the programme, while each team will design and develop online sharing and workshop sessions, participate in virtual exchanges, and prepare an original digital presentation that explores new forms of documentation and sharing and opens up the creative process to the public.
As part of the application process, there will be the choice to request mentorship. Applicants will be invited to request expertise to develop their proposal. Mentors will be available but not limited to the following key areas:

Digital fabrication

Communication

Social Impact

Strategy & Sustainability


Read more
close
To support the exchanges a dedicated Discord channel will be created to provide a space for participants to communicate and serve the needs of the individual exchanges. Using a shared platform will also enable all participants to see the work of the other exchanges and provide the opportunity for knowledge transfer. The use of communication tools will however not be limited to Discord, and participants will be invited to use methods and tools that will best serve the objectives of the exchange, and to record and document their methods of interaction and communication.
December 2nd
Call for applications
January 12th
Submissions Deadline
January 19th
Notification of Results
January 28th
Online workshop for selected participants
February 4th
Earliest exchange beginning date
February 26th
Latest exchange end date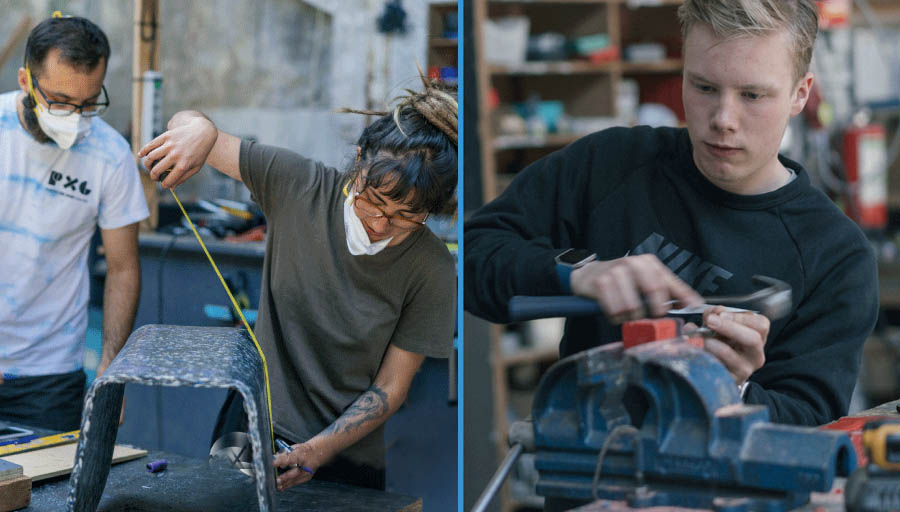 Participants must fill in the online application form by January 12th 2021.
Applications will be evaluated and selected participants will be notified by January 19th 2021. To apply, you should organise a project with a maker or organisation as outlined above and carry out one application.
In the application you will need to:
Describe the project and its main objective.

Explain how the project will allow you to achieve the stated objective.

Reason for exchange and motivation.

Provide a detailed work plan and estimated dedication time .

Provide documents showing you have made plans with partner/organisation/creative space and that they are committed to the project and exchange, such as a letter of agreement.

Provide estimated budget, plan and agreement for distribution of maximum budget between both parties (€ 1000).

Provide a CV.

Provide contact and personal details for each party of the exchange. In the case that one party is an organisation or creative space you must contact details for someone.

Specify which type of mentorship your exchange would benefit from.
For questions, please contact: oliver@fablabbcn.org
Read more
close
To be eligible for the exchange, you must comply with the following requirements:
Applications must be submitted in English using the on-line application form, by the deadline, as indicated in above.

Applications must include all of the information requested in the application form, including annexed documents.

Applicants must be makers (see definition of makers in beginning of document).

The exchange must be completed between the beginning and end dates outlined above.

Applicants must be present at the opening, online workshop during exchange and closing events.

The total length of dedication time during the exchange must be a minimum of 40 hours.

The open call is open to all applicants from the eligible countries as listed

here

.
All applications will be evaluated by the members of the consortium: European Creative Hubs Network, Fab Lab Barcelona, UPTEC and Makery. 
The evaluators will assess the following aspects of your application:
Project motivation

Idea for the exchange and proposed plan and program

Proposed outcomes of what you hope to achieve as a result of the exchange

Quality of the partnership formed for exchange

Gender balance

Geographical balance
You will be informed by email about the results of the selection process by January 19th.
The deadline for applications for the exchange programme will be January 12th 2021.
CONFIDENTIALITY AND INTELLECTUAL PROPERTY RIGHTS
All information submitted by applicants in the online form will be processed confidentially by Hyper Global / Hyper Local organization structure and any entity involved in the applications' management and selection process.
The Hyper Global / Hyper Local organization structure or any entity involved in the program will not keep any intellectual property rights over the submitted proposals or the outcomes of the projects developed throughout the program.
Hyper Global / Hyper Local organization structure assumes that all applicants are not inflicting any intellectual property rights in their submitted proposals.
Hyper Global / Hyper Local organization highly values the use of open licenses such as the Creative Commons.