"We need to be connected digitally with other people as there have to be other ways of being creative with each other."

Liliana Pereira, a ceramic artist and founder of  ESCAPE – Estúdio de cerâmica, a space dedicated to handmade ceramics, spoke with UPTEC and gave her insights on maker culture.

Can you introduce yourself? Have you been working as an independent and/or are you involved in cultural/maker organizations?

Liliana Pereira: My name is Liliana, and I am a ceramist. I have developed my work in the area of ceramics, with a brand in 2017. My goal at the time was to develop my professional activity. I was unemployed, and the field of ceramics was raised as an option for me at the time. It ended up being in the background of my professional livelihood. Over the last three years, I have developed original pieces for both galleries and shops. In 2020 I created my workspace. The production here in the studio can also teach other people about ceramics. The city of Santo Tirso (Portugal) provides the opportunities and challenges me to create my ceramics. The technical part of my practice has made it easy for me to be autonomous. That is one of the great difficulties for ceramists, to have the opportunity to use their own tools.  There is always a lot of material that is not so accessible for everyone and in the end, having my workspace here allowed me to create freely according to the conditions that I set. I can also focus on the scientific aspects of my practice without the need for third parties. That was one of the main reasons that I opened my studio. It is often not very easy for people to start a brand new artistic activity.

How did you come up with your practice in ceramics?

Liliana Pereira: I was unemployed in 2017. I had been teaching, but there was a time that I had no work. I wanted to keep myself busy, being at home waiting was not something that I wanted to do, so I decided to attend a studio. This opened the door to more possibilities for me, since I was able to create something and earn from it.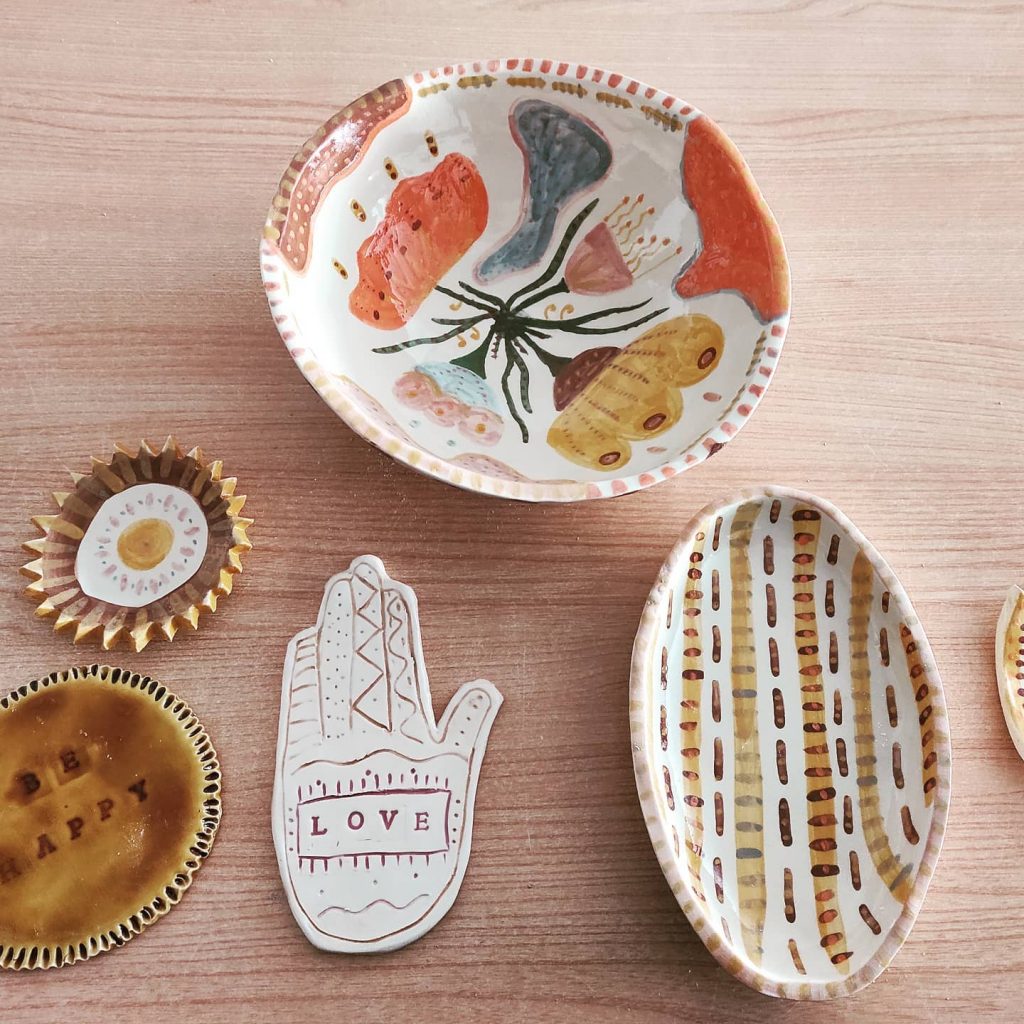 I always wanted to have immediate results. Creating ceramics made me have more patience and pay more attention to the process, as a whole. When people are unemployed, they want to see results. I had to have immediate results in order to be able to cover my expenses and earn money. It was a process that sometimes made me a little indecisive about whether or not to continue my creative work. I had to allow myself to discover what I wanted to show in my ceramics. My ceramics space, located in Santo Tirso also allows me to meet other people. There was an exciting synergy in the studio and that was when the first pieces were created.

Is it like a co-workspace for certain people, who could go there and work?

Liliana Pereira: Exactly! The space allows everyone to get a basic introduction to ceramics. People also start to develop their own projects and some of them have even developed in a professional level. I wanted something that could support me financially and also other people who come here on their free time. We address various age groups, ranging from retired people to emerging artists, who want to start their professional career.

I felt very limited production-wise before opening my studio. I like to be with people and I want to communicate with them, working and sharing experiences. This way, I can share my work with others, which was also one of the reasons why I founded the studio. Besides doing my creative work, I can also teach and share the knowledge that I have acquired over time.

Is the studio permanently open so that other people can also go there?

Liliana Pereira: The studio started in March 2020.  In May, we were able to open our doors to the public. I think people were in need to experience new things after being in isolation. Our studio became a space that people ended up having a reason to visit, leaving home, which was something positive. This space aims to teach ceramics or allow people to work in them, but I want it to be even more. Even though the capacity for workshops is limited, people have the chance to display their art in my studio.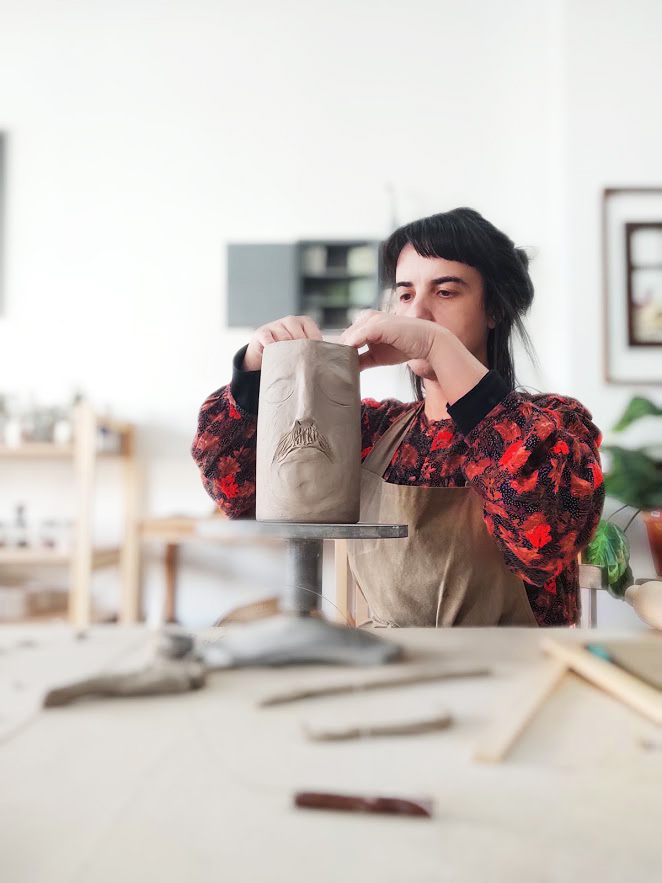 Would you define yourself as a maker, and how do you see this culture? There are many projects, and there are many networks to create, and if you see this growing, do you think that it makes sense to bring others closer to similar projects as well, for example, the project where you were in Santo Tirso, did you maintain some connections?

Liliana: I love to network. I like to meet and work with other people, and yes, I consider myself a maker.  I always try to create something new and being able to share it with other people.  I need to invite more people here to my studio in order to build that network even more. We have already established links with other makers who develop pieces in ceramics and in other fields. For example, in 2020 we created some jewelry projects. I like this way of sharing, and I think it is fundamental and increasing overtime. We are in a society where people are looking for handmade and authentic pieces. Interestingly enough, even the industry is challenging itself. They already have created certain pieces that look like they are handmade. We are already starting to feel that even the big industries are paying attention to smaller artists, creatives or medicals that create projects of limited editions.

Do you have experience in any programmes that promote this approach (e.g. mobility programmes/programmes supporting collaborations)?

Liliana: I have taken part in International Fairs, collaborating with the industry. However, there isn't much awareness raised regarding the decoration sector. Last year they introduced us to the 12 artistic makers in order to connect the industry and small creative businesses.  

It was an exciting initiative because it tried to introduce and reflect around the topic of production. Makers are getting involved in the international sector that was normally only open to the industry. The work done by artists can consist of textile fashion, ceramics and footwear.  In 2020 I participated in the Conservatory of Fashion in Lisbon. I have also established commercial connections with several shops in Portugal and Faro.

What is your experience with your visits to these fairs?

Liliana Pereira: I was able to attract potential customers. I'm a little tired of the industrialization and want to have support for my projects, which is a very important aspect for my work. The more products are disseminated, the easier it gets to reach more people. It also helps me develop my network a lot!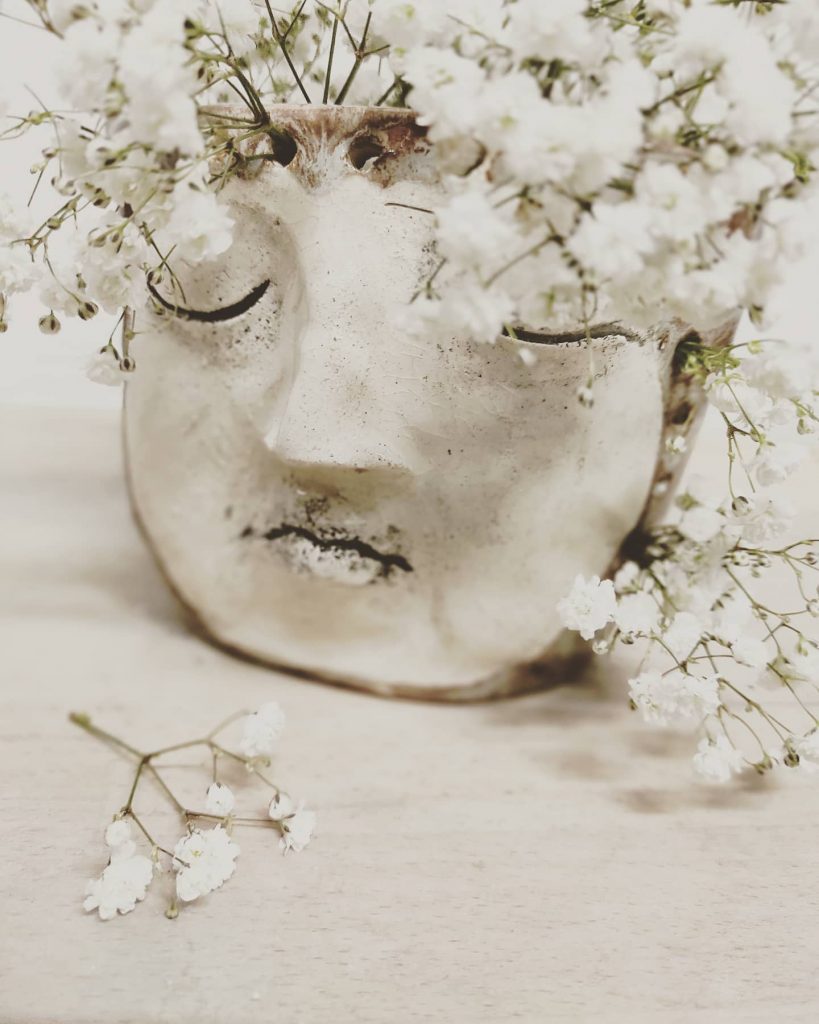 What is your experience with mobility programmes and funding for international programmes and makers at a national level?

Liliana Pereira: I know that there are many. Probably there are a lot of funding schemes that I could also apply for. If I had focused on that, it would have been easier for me. When I set up my studio, I realized that I could have asked for support. Sometimes I feel that this aspect could be clearer. I am not aware of how all of these procedures work.

It is much easier for someone to pass in front of the studio and have a look at our work. That's why, people came in at first, to get to know me and my pieces. Participations were from people who at first did not know my products. Through word of mouth, I was able to receive more attention by the local community.

Santo Tirso's new studio turns ceramics into an "Escape"

What is an exchange in times of world pandemics? Should we still invest in that? Considering our travel restrictions, how can we continue to grow and reinforce networks if we cannot meet one another? Why is that important (or not)?

Liliana: The Covid-era is not a good example. I wanted to create partnerships with local entities and synergies with the Chamber and with schools.

All the workshops that I have conducted about ceramics are open to everyone. I have had people from the regions around Porto (Portugal) attending as well. When I am going to another client, I'm always looking for different things. I think that the more I know, the more references I can make. I also conduct a study on possible reference I can use. I work very much by references in this studio. It is part of my identity isn't it?

"For me, being able to share what I know and being able to see, visit and meet others would be great! I think that there should be more of these connections stablished between makers. These synergies are significant to evolution."

I know that other ceramists who own studios began to give courses online to support themselves financially, teaching how to use clay and some of our tools. Of course, ceramics is a face-to-face experience. The digital way is hardly applicable to my work. We are already entering the digital era, as a matter of fact, but now it seems that doesn't work for me. Therefore, we also need to be connected digitally with other people as there have to be other ways of being creative with each other.

Learn more about ESCAPE – Estúdio de cerâmica