Name
Aleksander (Sandro) Garibashvili
Current location
Vilnius, Lithuania
Professional field
Physical theatre, dance, film
The story behind
Aleksander is a dancer and physical theatre performer from Kharkiv, Ukraine. With his partner Maria Koreneva they co-founded the Eleffant-Foot physical theatre in 2006, which has masterminded many actor-devised theatre spectacles, in Ukraine and internationally. He has also spearheaded several educational projects, dedicated to teaching physical theatre, group devising, neutral mask, character development and the infamous red nose performance throughout Ukraine.
In March 2022 after the war broke out in Ukraine, together with his wife and their two children, they moved to Vilnius, Lithuania so they could find a safe place to live and their kids could continue their education.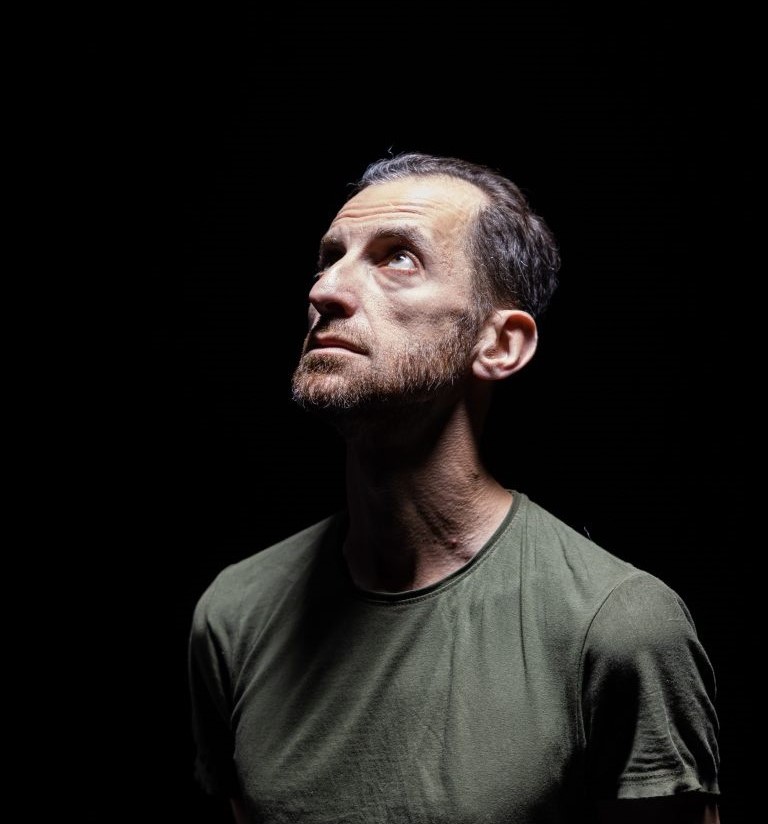 Through their eyes
"Thanks to MakersXchange and the financial support we received, we were able to keep our artistic practice moving forward, despite being displaced from Kharkiv, Ukraine. We are currently based in Vilnius, Lithuania where we continue to create work based on our experience of war, as it is. For all of August and September, we have been working on a creation of a short film entitled 'Де Ти?' ("Where are you?"). This film deals with the emotional states created by being thrown into near-death experiences. When you realise that life will never be the same, we experience shock, grief and disbelief, sometimes we accept, sometimes we fight. Our language is movement, and our goal was to find a corporeal/ physical form/ choreography to match our emotions and share these emotions with our audience. With the financial support that we received, we were able to bring a Ukrainian dancer, Eva Sai to join the production, as well as enlist two Lithuanian-based dancers, Elmyra Ragimova and Nikita Berezko. Sandro Garibashvili was the choreographer and one of the main dancers. The film was directed by Maria Koreneva, a Ukrainian-born actress and director. We researched the theme together in complicity finding the truthful state and its embodiment, in parallel we researched locations and wrote the script. We were lucky to receive a residency and permission to film at Menu Spaustuve, a Vilnius dance and circus hub, as well as two outdoor locations. Our talented film crew, filming equipment and lights were provided at a modest cost by Evaldas Arlauskas. We plan on screening the film at the end of October in Vilnius, and making it available online in November of 2022. Thank you for your support and interest in the arts!"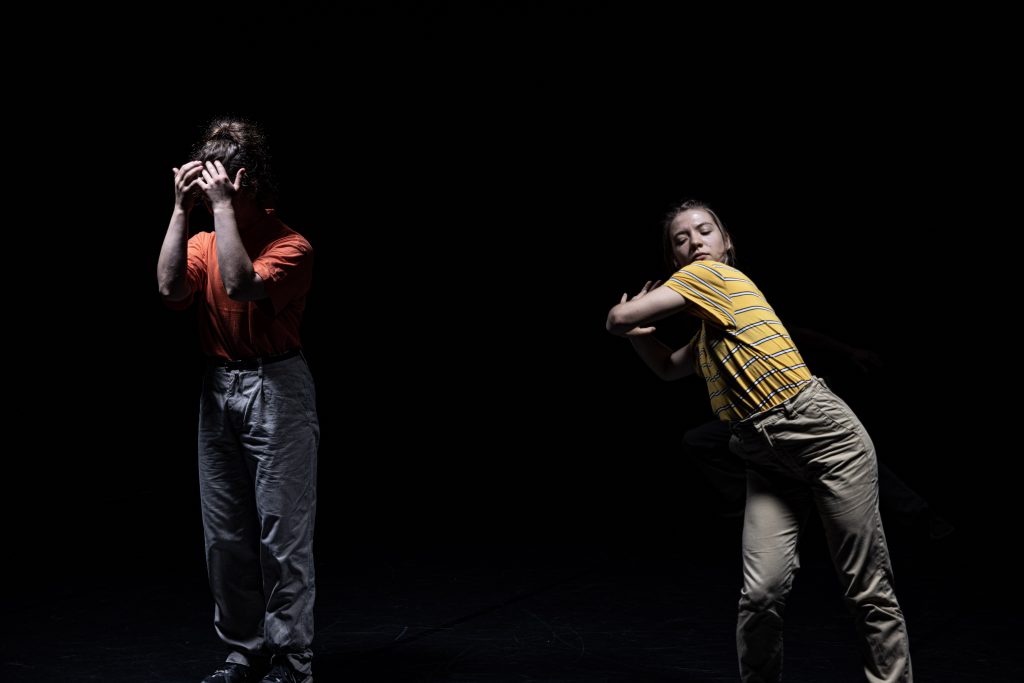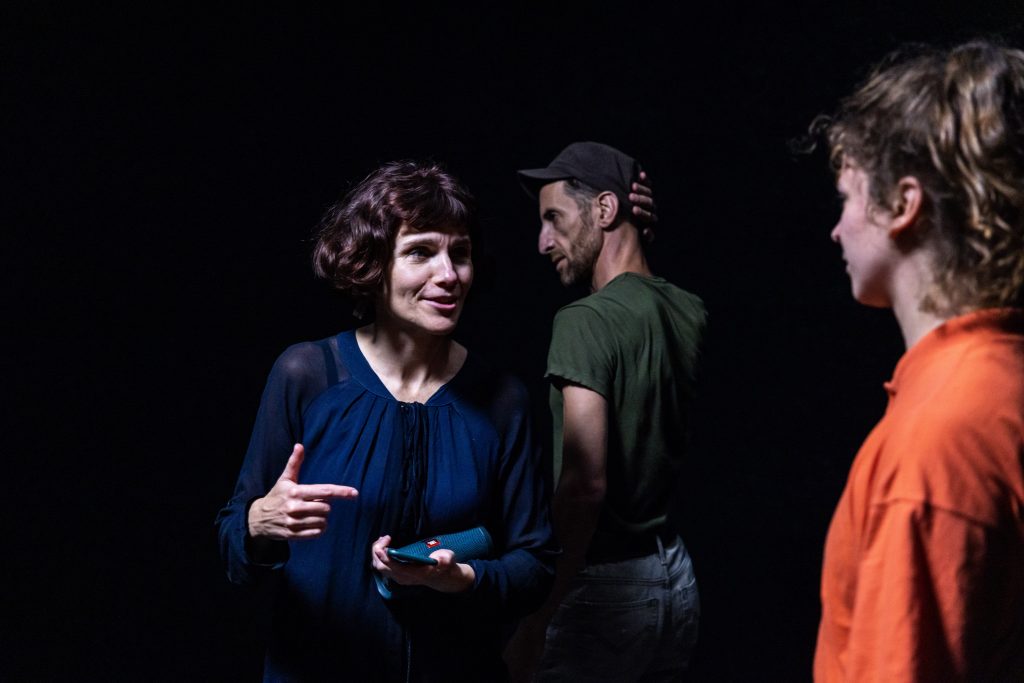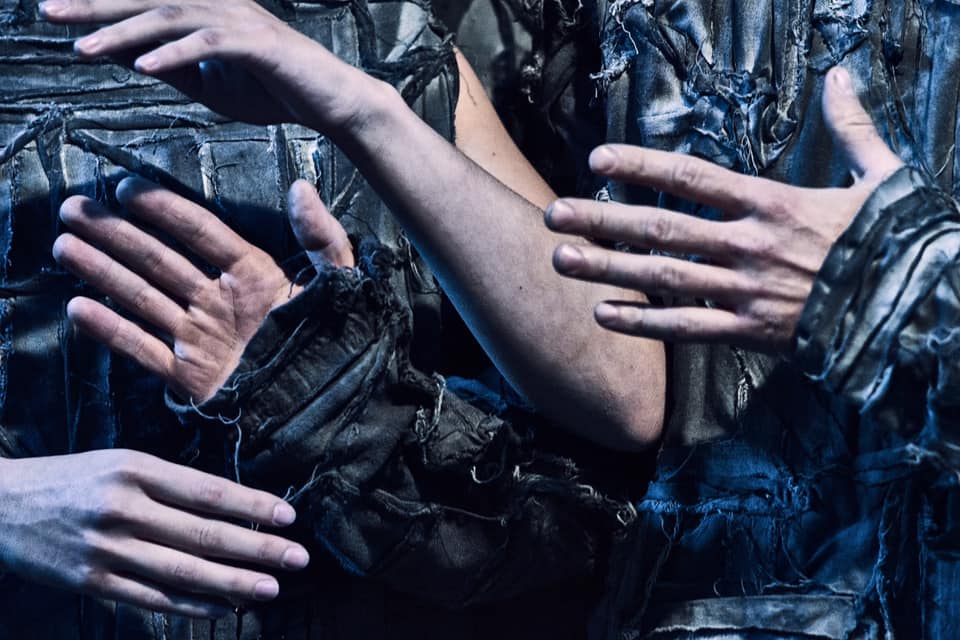 More about Aleksander Garibashvili
Teaching Experience
2019-21 5th Floor Studios Physical Theatre School, Kharkiv, UA/ Kiev, UA.
2019 CORRUPT:OFF, Youth Anti Corruption Musical, Poltava, UA.
2016 Pie of Parallel Realities – UA/DK co-production, dedicated to Donbass war Refugees, Kharkiv, UA, Actor Devising workshop leader.
2015 Organiser of the experimental performance festival; 'Me and Sela Brook,' Kharkiv UA.
2015-16 Performance Art Semester Course Teacher at the Academy for Visual Arts, Kharkiv, UA.
2014-15 The Comedy Workshop – a 4 month educational project in the territory of Commedia Dell'arte, clown and bouffon. Kharkov, UA.
2011-12 Hartenberg International Theatre festival – Performance workshop leader. Hartenberg, CZ.
2007-09 Actors playground – Ongoing creative movement and physical performance training, with an emphasis on Mask Play, Commedia Dell'arte and ensemble creation.
Artistic Experience
2022 Birds – Dance Theatre Film (uncompleted) Kiev UA.
2022 The Hill – a Film based on poetic rituals, Producer, Director. Kharkiv UA.
2016-20 Vocalist at the Gulliver's Thunder Machine music band.
2017 BMP – Video Art Performance, loosely based on the Epic of Gilgamesh.
2016 The Whale – Performance – Porto Franco Performance Festival.
2015 Gza Unda Dzala – Performance – Ermilov Centre.
2014 12 Songs of Freedom. Kharkiv, UA. Dance, vocal performance.
2008 A.W.O.L – Physical Bouffon piece, based on the events of the 2003 Iraq War.
2007 Mezza Verita – physical theatre performance.
2006 010101 – physical theatre performance.
2006 Don Quixote or Two Figs for the Great Captain – physical theatre performance
Other Projects
2000 Studio TAM, Chekhov's 'The Bear' – Ivanov – Lead.
1999 European Repertory theatre co – "The Duel" by Anton Chekhov, Steppenwolf Studio. Supporting Role -The Innkeeper.
1998 Theatre Studio 'TAM' – 'Don Juan' (Moliere) Lead Role – Sganarelle.
1991 'Immigranti' – Off Broadway Musical – Ensemble Member – Musical Theatre (New York, USA).
1987 'The house of Ghosts' Mosfilm, Moscow Film Studio (Moscow, Russia) Supporting role.
---
Ukrainian Artists & Creatives Support Program
As the Ukrainian crisis is upon us and a large number of CCIs have already been affected by it, there is a constant need to support displaced Ukrainian creatives looking to resume their professional activities in new conditions. During the Program implementation Ukrainian CCS professionals received assistance in finding new jobs, accommodation possibilities, art residencies and were hosted in the creative hubs of ECHN around Europe, blending into local creative communities, aiming at their integration. 27 of the applicants were provided with a grant of 1.000€ in order to contribute to their resilience and help them resettle in a new environment. Beneficiaries of the Program shared their stories, describing professional successes and challenges and how this project has helped them get back on their feet.